---
---
Posted on Nov 21, 2022 at 23:18
In early November 2022 I tried to ascend the Zugspitze on the via ferrata Stopselzieher. Even though it didn't work out and I had to turn back, it was a beautiful tour.
Read more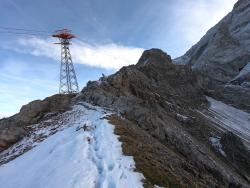 ---
Posted on Jul 31, 2021 at 00:20
This time it goes leisurely with a rented packraft along the Gose and Dove Elbe near Hamburg, Germany.
Read more